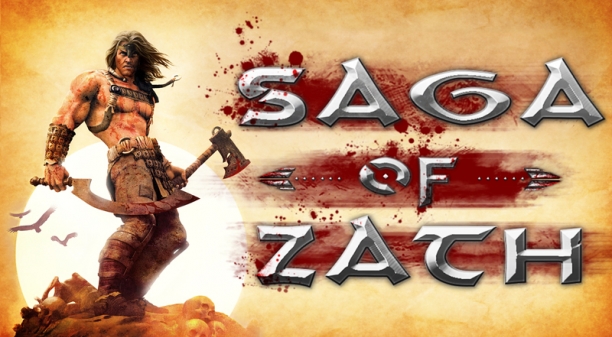 Introducing: Saga of Zath
Right before the new year, we announced what we're calling the Saga Server--a brand new limited-time server where you create a new character, complete milestones, earn exclusive loot, and experience the thrill of starting anew!

The Saga begins January 24th. Let's take a closer look at Saga of Zath, the first Saga Server:

What is the Saga of Zath?
'Saga of Zath' is a new limited-time server running on a PvE ruleset identical to Crom. You create a new character on this server, and play through a special "Saga Quest" as you progress. Completing objectives in this quest awards exclusive cosmetics, titles, and up to Tier 6-quality raid gear! There's also a special Saga-exclusive Hoard you can purchase, featuring tradable items! The server is only open until May 15th. Once over, the server closes and your Saga character is transferred onto Crom with their inventory fully intact.


How can I play on Saga of Zath?
It's easy - all you have to do is click a button! From the character selection screen, look for the option on the right to "Create Saga Character". You won't need an empty character slot to play on Saga of Zath, either. Just create a character and play right away!
(It's a little hard to see, but you can see the Saga Server character option on the right-center part of the character select screen)



You cannot transfer a character nor use a character boost on Saga of Zath; everyone starts fresh with nothing but rags and broken oars to their name. This also means you don't have access to pre-existing account claims nor tokens when starting on Saga of Zath.
If you delete your Saga Character, we cannot restore them!
Unique Features of Saga of Zath:
The Saga Quest
Shortly after washing ashore on Tortage Island, you are assigned a "Saga Quest" which tasks you with reaching various progression milestones:


Reach Level 20

Reach Level 50

Reach Level 80

Fulfill your Destiny

Complete a Raid via the Raid Finder*

Classic Raid Progression

Completing each stage of the quest awards a special vanity item or account-wide title exclusive to Saga of Zath, along with powerful loot including a Tier 4 Cloak and a Tier 6 Weapon and Necklace for your class!
* The Raid Finder will not be available at the start of Saga of Zath. Don't worry--we'll turn it on shortly after the launch.
Server Conquest
Vanquishing Ethram-Fal (the final boss of the Palace of Cetriss) on Saga of Zath awards the entire server a special vanity cloak. The accomplishment is broadcast globally, and participants in the encounter receive a unique title to commemorate their victory. There is no limit to how many times this may be accomplished.
Ethram-Fal must be felled outside of the Raid Finder for the achievement to count.
Heroes who defeat Ethram-Fal during the Saga will go on to be immortalized at the end, their names published on our website for all to see and honor.

Exclusive Hoard
A special Hoard is available exclusively to your character on Saga of Zath. Remember, your Saga character's inventory carries over to Crom when the Saga ends, so you can show off or even trade your goods with the community.
Fatality Bonus
What is best in life? Your Saga character has an increased chance at triggering a fatality when crushing your enemies. Fatalities grant bonus XP.
Spoils of War (Members Only)
As a Member, experience greatly increased token gains for your Saga character while playing on Saga of Zath.
Good Omens
Hyboria is a dangerous place, but on Saga of Zath, you can at least know that the Twelve Portents won't get in the way. World Bosses are disabled on this server.

---
The Saga Continues
Thanks for reading this overview!
We're excited to launch this project and hope to open additional Sagas down the line based how much you all end up liking Saga of Zath. We can experiment with rulesets and other aspects for future installations, so please let us know what you think of the whole thing!

Now, gird your loins and enter the fray, heroes! Your saga begins!