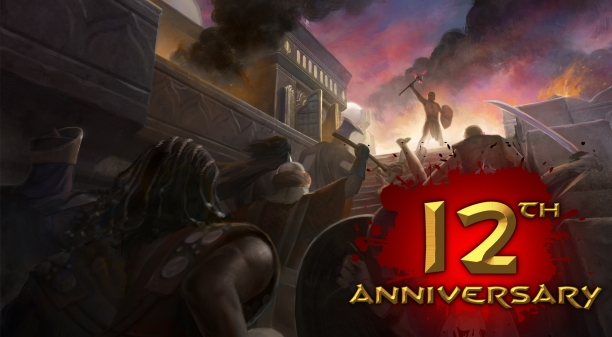 12th Anniversary Event: May 19 - June 9
Play Onslaught, earn loot!
We've made it another cycle around the sun, heroes! Age of Conan was unleashed upon the world 12 years ago - and we're still thrashing and smashing thanks to you! Celebrate the occasion with daily login rewards featuring a new mount, as well as new rewards just for playing Onslaught!
Daily Login Rewards: New Mount
Get daily goodies for every day you log in during the anniversary event, including a free mount: The Gilded Desert Stallion!
Community Challenge: Waves Completed
This year's global community challenge tasks you with completing waves in Kuthchemes Temple Onslaught! When enough waves are completed by everyone on both servers, the entire community is awarded the headpiece of a new vanity set: Dogs of the Desert! See the progress at https://leaderboards.ageofconan.com/.
Personal Challenge: The War for Kuthchemes
In addition to the above challenge, you'll all individually have a chance to earn other pieces of the new vanity set by completing The War for Kuthchemes daily quest. As you complete the quest daily through the anniversary, you'll be able to receive a piece of the new Dogs of the Desert vanity set. Will you be able to collect all the pieces? Talk to Oracle Vateesa to claim your rewards!
Dogs of the Desert Boots: 2 Completions

Dogs of the Desert Gloves: 5 Completions

Dogs of the Desert Skirt: 10 Completions

Dogs of the Desert Vest: 16 Completions

Spoils of Victory - 12th Anniversary Edition
Every day, you will receive an additional login reward that gives you a special Raid Finder chest. This chest can be opened with the "Conqueror's Gift" buff after completing any Raid Finder or Daily Challenge. This special chest contains a chance at various token packs as well as a chance at a new cloak!
THANK YOU ALL so much for your continued support of Age of Conan! We can't do any of this without you. We wish you all the best in these strange times; please stay safe, and take care!
-The Age of Conan team